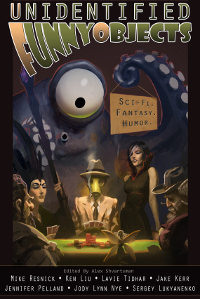 Unidentified Funny Objects will begin shipping on December 17, 2012.
You can order an e-book ($5.99) or a trade paperback ($15.99). We'll e-mail a PDF, EPUB and MOBI files to everyone who orders the book on release date (to the e-mail address we receive payment from via PayPal. If you want it sent elsewhere, just let us know).
Everyone who orders a trade paperback will receive the e-book as well, at no extra charge. We also offer FREE SHIPPING within United States.
Buy Unidentified Funny Objects trade paperback + e-book ($15.99)

Buy Unidentified Funny Objects e-book ($5.99)

You can also purchase Unidentified Funny Objects on these websites:
AMAZON (Kindle and Paperback)
B&N (Nook)
KOBO
Reviews and media coverage:
Tangent review by Colleen Chen
Diabolical Plots review of free online stories by James Hanzelka