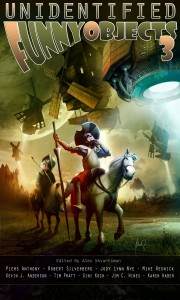 The third annual volume of UFO contains 82,000+ words of fiction, cover art by Tomasz Maronski and interior art by Barry Munden. It will be released on October 1, 2014.
Table of Contents:
"On the Efficacy of Supervillain Battles in Eliciting Therapeutic Breakthroughs" by Jim C. Hines
"The Right Answer " by James Miller
"The Gefilte Fish Girl " by Mike Resnick
"Master of Business Apocalypse " by Jakob Drud
"Carla at the Off-Planet Tax Return Helpline " by Caroline M. Yoachim
"Why I Bought Satan Two Cokes on the Day I Graduated High School " by Nathaniel Lee
"Company Store " by Robert Silverberg
"The Door-to-Door Salesthing from Planet X " by Josh Vogt
"Picture Perfect " by Matt Mikalatos
"The Discounted Seniors " by James Beamon
"That Must Be Them Now " by Karen Haber
"Notes to My Past and/or Alternate Selves " by Sarah Pinsker
"The Real and the Really Real " by Tim Pratt
"An Insatiable Craving " by Camille Griep
"Live at the Scene " by Gini Koch
"The Newsboy's Last Stand " by Krystal Claxton
"The Full Lazenby " by Jeremy Butler
"Do Not Remove this Tag " by Piers Anthony
"Super-Baby-Mom Group Saves the Day! " by Tina Connolly
"The Choochoomorphosis " by Oliver Buckram
"The Fate Worse than Death " by Kevin J. Anderson & Guy Anthony De Marco
"Elections at Villa Encantada " by Cat Rambo
"Infinite Drive" by Jody Lynn Nye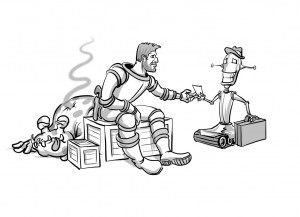 Two reprints are included (stories by Robert Solverberg and Mike Resnick). The rest are original material.
E-Book: 5.99 – Click here to pre-order now.
Paperback: 15.99 (includes free ebook) – Click here to pre-order now.