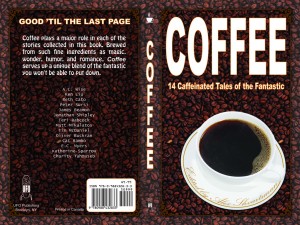 UFO Publishing is thrilled to present our next anthology, Coffee: 14 Caffeinated Tales of the Fantastic.
Coffee plays a major role in each of the stories collected in this book. Brewed from such fine ingredients as magic, wonder, humor, and romance, Coffee serves up a unique blend of the fantastic you won't be able to put down.
Release date: December 9, 2013
MSRP $9.99 (trade paperback), $2.99 (e-book).Buy it now.
Table of contents: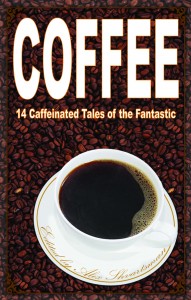 Foreword by Alex Shvartsman
At the Everywhere Cafe by A.C. Wise
The Perfect Book by Ken Liu
Toilet Gnomes at War by Beth Cato
The Seven Samovars by Peter Sursi
The Civet Whisperer by James Beamon
From the Shores of Tripoli by Jonathan Shipley
A Darker Brew by Teri Babcock
The Cup of Truth by Matt Mikalatos
Dungeons and Dental Plans by Tim McDaniel
The Man Who Heard Doughnuts by Oliver Buckram
The Coffeemaker's Passion by Cat Rambo
Caution: Contents Hot by E.C. Myers
Sexiest Fun Time Drug by Katherine Sparrow
Ghost in the Coffee Machine by Charity Tahmaseb
2013 Holiday Bundle Sale
We're offering a holiday sale through December 9 for the bundle of all three UFO Publishing titles.
Buy trade paperbacks of Unidentified Funny Objects, Unidentified Funny Objects 2, and Coffee for only $29.99 including shipping ($41.97 MSRP) or $49.99 shipped outside of the United States. Or get the e-book bundle for only $11.99 (14.97 MSRP).
Click here to take advantage of this offer. All physical bundles will ship on or before December 10. E-book bundles will be delivered by Dec 9 (the release date for Coffee).